Private | Semi Private:
Monique accepts students for private and semi-private classes. Contact Monique for more information. Monique offers teaching on a weekly basis in her studio, for students that want to come for a week long class. The program is adapted to the needs of each student. The tuition is $200.00 a day.
Workshops | Courses elsewhere:
American Academy of Bookbinding (Check classes listings and updates).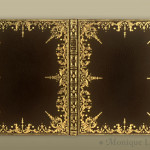 CONTEMPORARY DECORATIVE TECHNIQUES | MAY 2 – 6, 2016
This one-week course is an exploration of decorative techniques not typically associated with leather bookbinding. That is, they are techniques other than onlay, inlay and gold tooling.  Students will learn to use such simple and effective techniques as leather sanding, freehand tooling, painted tooling, leather painting, lacunose, feathered onlay and board forming. In addition to exploring the technical aspect of this work, students will be given guidance that will help them to design their bindings creatively, using these alternative techniques. This class is open to students with all levels of experience.
In this class students will make a leather spine and the boards will be covered with decorative papers. This technique is better suited for thin books that are four-five sections and not more than eight including the end paper sections. No prior book making experience is required. 
SUMMERFIELD STUDIO

 July 25 to August 5, Intermediate/ Advanced fine binding

This two-week class is designed to help students with varying levels of experience in fine binding to refine and review their techniques, develop more advanced and sophisticated ones and even invent new techniques. Emphasis will also be placed on binding design and design execution. Some of the more advanced techniques that may be explored are: elaborate woven headbands, edge gildings, gold, blind and painted tooling, inlays and onlays of leather or other materials. Students will work independently on their particular projects, with close monitoring and guidance from the instructor. They will be encouraged to explore various design concepts and decorative techniques, depending upon their level of experience and expertise.  The class may be used as a review of the binging process or to concentrate on a few, or even one specific technique.  The AAB Fundamentals / Intermediate Binding class, or equivalent, is a prerequisite for this class and it may be repeated as needed. Priority is given to students who have previously attended courses at Summerfield until February 1 for the March session and July 1 for the November session.
SUMMERFIELD CAMPUS*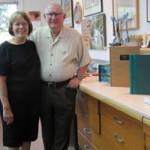 Since 2010, Monique Lallier and Don Etherington have opened their personal studio for AAB classes. The Lallier/Etherington studio is a beautiful, comfortable, and fully equipped facility. The studio is located in Summerfield, North Carolina, a suburb of Greensboro. Courses in Summerfield provides students the opportunity to study in an alternative home environment that may be closer to home. Class size in Summerfield is limited to four students.  Admission to the courses is competitive and students are selected based on commitment and skill.  Pre-existing students are given priority until February 1.  Tuition assistance is not available for the Summerfield campus. Greensboro is home to the University of North Carolina at Greensboro, as well as Etherington Conservation Services in nearby Browns Summit, the company Don founded in 1987.  If time allows, students may visit the extensive bookbinding library at the University that houses the largest collection of Don and Monique's bindings, and get a personal tour of Don's company where a variety of interesting conservation projects are in progress.
As usual (we) teach in our studio, private classes one or two day workshops. The program is tailored to the need of each students.